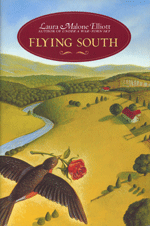 In the sticky-hot summer of 1968, a year in American history marked by assassination, Vietnam War protests, and civil rights rioting, Alice faces some trying concerns of her own. Alice longs for a connection with her mother, who is beautiful but distant, caught up in the search for a husband who will help erase the memory of Alice's father. Alice's friendship with Bridget, a tennis-playing Twiggy, introduces her to competitiveness and the shallow pettiness of spoiled rich girls, as well as to the prejudice that many Americans still feel toward black people.
It is Alice's friendship with Doc, the family gardener and handyman, that continually brings her back to the truths that will shape decisions in her life. Doc reminds Alice that life is about "passing the test"—doing what's right.
Flying South celebrates a young girl's coming-of-age in a delicate, moving narrative that sings with the understated, yet resonant, pleasures of life in the American South.
It is Alice's friendship with Doc, the family gardener and handyman, that continually brings her back to the truths that will shape decisions in her life.
"With curiosity and introspection, Alice, 11, recounts one summer's everyday events. She and her widowed mother live near Charlottesville, VA, on the estate that Grace inherited from her parents. While the fashionable, distracted woman seeks the attentions of a well-heeled politician, her daughter soaks up the kindness, wisdom, and affection of the elderly staff—Doc, the gardener, and Edna, the cook. Helping Doc tend the magnificent roses, Alice learns the importance of appreciating differences, protecting others, and standing tall for what you believe. When he has a stroke, she realizes she is saying good-bye to her best friend. Political events of 1968 create a backdrop for the inner turmoil the child experiences and the values she possesses.

"This is both a poignant mother-daughter story and a comforting tale of the affection between a lonely young girl and an irascible but devoted old man. Doc's gems of insight invigorate Alice and shape her outlook on life. Readers will find poignancy, humor, and history in this story."
+ read more— School Library Journal
"Elliott's dialogue is right on target with the soft accent of the old Southern aristocracy. (Her) sure hand explores a complicated chapter in America's ambivalence toward race."
+ read more— Kirkus Reviews
"Elliott creates a strong sense of the time and place, with issues of feminism and civil rights woven into both plot and characterization. The rose-garden metaphor is subtle, but the hurt and comfort implicit in the thorns and flowers will stay with readers."
+ read more— Booklist
"The story is as beautiful as the roses that symbolize the tale of rebirth between mother and daughter. Doc's care of the roses is analogous to raising children and serves as Alice's wisdom for coping with life's challenges. Sadly, Alice must accept life's cycles and say goodbye to the gentle relationship that she and Doc shared.

"Readers will like spunky, resilient Alice. The setting provides a voice for the social conflicts of 1968 with frequent references to Vietnam demonstrations, Bobby Kennedy's assassination, Martin Luther King's influence, and the fragile acceptance of racial differences."
+ read more— VOYA
"In the year 1968, America is undergoing a civil re-birth. And just as America struggles to define its place in a new social order, so does ten-year-old Alice struggle to understand her place in her own life. With her father dead, Alice longs all the more for a close relationship with her mother, who is unfortunately preoccupied with finding a "good" husband. Meanwhile, Alice's awakening ethics rebel against the racial intolerance and social snobbery she encounters in her upper crust Virginia world.

"It is through her offbeat but loving relationship with the family's aging gardener, Doc, that Alice learns the importance of having principles and sticking to them. Speaking of Virginia's relatively isolated and protected society, Alice says, "Change is going to come whether they like it or not." The only protection is a clear conscience.

"Alice's two main relationships—the one she has with Doc and the one she wants with her mother—are skillfully juxtaposed in this sensitively written novel of individual discovery. It also shows how national movements, though they may seem distant today, were very real—and very personal—to the people who lived through them."
+ read more— Children's Literature
Awards
Best Children's Books of the Year, 2004; Bank Street College of Education
Winner, The Joan G. Sugarman Children's Literature Award
Quiet Voices with a BIG Message
The ALAN Review (Winter 2006) ran a thought-provoking article titled "Quiet Voices with a BIG Message" that featured Flying South and a Q and A profile of Laura. ALAN (the Assembly on Literature for Adolescents) is the YA (young adult) branch of NCTE, the National Conference of Teachers of English. Click here to download the article.
Where to Buy
Flying South
Purchase this book directly from the publisher by clicking below.