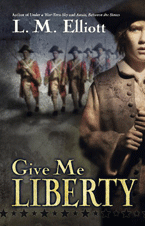 Laced with real events and leaders such as Thomas Jefferson and Patrick Henry, Give Me Liberty explores the Revolutionary ideas and risks colonists faced in their quest for liberty. Thirteen-year-old Nathaniel Dunn is an indentured servant laboring on a tobacco plantation in colonial Virginia. Life is hard, and it's about to get harder when Nathaniel is sold. At that auction, he is separated from his one friend, a teenaged slave named Moses.
In a twist of luck, Nathaniel meets Basil, a kind, elderly schoolmaster, who brings him to Williamsburg where patriots and loyalists are clashing. An arrangement is struck for Nathaniel to work for an ill-tempered carriage maker loyal to the British in a town increasingly led by patriots such as Thomas Jefferson. The year is 1775. Colonists are enraged by England's taxation. All around Nathaniel, people are joining the struggle for liberty, spurred on by Patrick Henry's impassioned words, "Give me liberty or give me death." Fearful of trouble, Nathaniel avoids taking sides. Gradually, Basil's books and music, plus an apprentice named Ben, open Nathaniel's mind to daring new attitudes about equality.
Should he and Basil join the fight? When Ben is hurt in a booby-trap left by British marines in Williamsburg's gunpowder magazine, Nathaniel must make a choice. He becomes a fifer in the 2nd Virginia Regiment.
But Nathaniel's belief in the Revolution is marred by the fact Moses is still in bondage. Moses' only chance for liberty is to run away and join the British Royal Ethiopian, a regiment of escaped Virginian slaves. What is the meaning of liberty in a country that depends on slaves and indentured servants? Nathaniel grapples with the choices a dawning nation lays before him and the possibility of facing his closest friend in battle as the American Revolution explodes in Virginia.
L.M. Elliott's gripping account captures the hopes and dilemmas of a boy caught up in this crucial turning point in American history.
"Filled with action, well-drawn characters, and a sympathetic understanding of many points of view."
+ read more— ALA Booklist
"Elliott's engaging and highly readable novel is well researched and sprinkled liberally with renowned patriots of the period. Particularly noteworthy is the way in which Elliott handles the paradox of colonial Americans fighting for their independence from England yet clinging to the practice of enslaving other human beings. She does not provide pat answers, and Nathaniel's inability to reconcile what he sees around him promises to provoke thoughtful discussion.

"A rich and robust piece of historical literature."
+ read more— School Library Journal
"A lively account of the times with a likable narrator and solid action.

"As Nathaniel gets involved in the war itself and wonders about fighting for freedom and independence in a land where so many are not free, readers will be prompted to ponder the contradictions of their nation's past."
+ read more— Kirkus Reviews
"One of the most rewarding aspects of this novel is to witness how Nathaniel, under Basil's tutelage, develops from a timid and insecure youngster into a self-assured young man of strong moral character and high ideals, willing to fight for the freedom of his adopted land. Elliott's vivid descriptions and in-depth research make it easy to envision revolutionary-era Williamsburg and the impassioned leaders who led the American colonies to chose "liberty or death."
+ read more— VOYA
"With historical characters such as Thomas Jefferson and lyrics from patriotic songs of the day, Elliott successfully evokes the spirit of the times. Fearful Nathaniel and kind-hearted Basil come alive and help flesh out this exciting time in US history."
+ read more— Kliatt
"An excellent fictionalized representation of a little-known facet of American history."
+ read more— Michigan Reading Journal
"Jefferson and Washington are not the iconic visionaries we now think of—they are instead fairly ordinary men who rise to the events of an extraordinary time…a quick, enjoyable read that may well be the introduction that sets a new leader's imagination on fire."
+ read more— WHRO Public Radio
An historical novel written for grades four through middle school, Give Me Liberty is an excellent supplement to social studies curriculum, adding rich detail of daily life in Colonial America. Elliott captures the struggle of the era through her portrayal of common people living out their lives in a period of social upheaval.

Her style is fun to read and filled with delightful descriptions. Readers can easily imagine Basil's mixture of humility and wit. As an added bonus, Elliott includes period English lyrics "borrowed" by the Colonist's and reworded as Patriot songs. Guided by Basil, Nathaniel and Ben grow in wisdom and character, each adopting for himself Thomas Jefferson's vision of the inherent "nobility of common man"
+ read more— Blogcritics.org
L.M. Elliott's gripping account captures the hopes and dilemmas of a boy caught up in this crucial turning point in American history.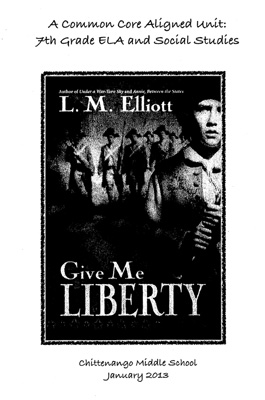 Chittenango (NY) Middle School's Common Core Unit, designed and graciously shared by Librarian Marilyn Natke and 7th grade teachers Sarah Rife (ELA) and Sarah Schultheis (Social Studies).