Annie, Between The States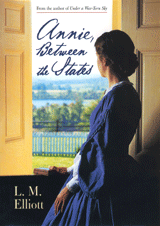 The Civil War has broken out and Annie Sinclair's Virginia home, Hickory Heights, is right in the line of battle. Caught up in the rising conflict, Annie and her mother tend to wounded soldiers while Annie's older brother, Laurence, enlists in the Confederate cavalry under JEB Stuart. Even Annie's rambunctious baby brother, Jamie, joins John Mosby, the notorious "Gray Ghost." Faced with invading armies, Annie is compelled into a riskier role to protect her family and farm. She conceals Confederate soldiers and warns Southern commanders of Union traps, and the flamboyant JEB Stuart dubs her "Lady Liberty."

Annie's loyalty is clear until a wounded Union officer is dragged onto her porch. Saved from a bullet by a volume of Keat's poetry he keeps in his pocket, Thomas Walker startles Annie with his love of verse. After several chance encounters, Annie is surprised by her growing interest in the dark-eyed Northerner as they connect through a shared passion for poetry.
As the war rages on, Annie begins to question some of the values driving Virginia's involvement. Then tragedy befalls Hickory Heights, and Annie becomes the subject of a shocking accusation. She must confront the largest quandary of all: choosing her own course.

L. M. Elliott crafts a stirring novel that carries readers from the Manassas battlefield to fancy-dress balls to the burning of the Shenandoah Valley while capturing the tenacious spirit of a young heroine facing an extraordinary, complex time in American history.
"Fiery, intelligent Annie remains a heroine to relish, and YA readers who encounter her story will find themselves pondering the soul-wrenching questions she asks: ´Had their war been a justifiable one? Could anything justify this much carnage?´"
+ read more— Booklist
"Elliott's novel opens with the battle of Manassas and a sea of confusion as Union troops retreat across the property of 15-year-old Annie Sinclair. By the end of the war, Annie is home and all of her relationships have changed irrevocably. Scenes are so powerfully drawn that readers will be engaged from chapter one. A rich experience for Civil War history buffs."
+ read more— Kirkus Reviews
"YA readers will resonate with the romance and learn about the songs and literature of the time."
+ read more— Kliatt
"Elliott does a fine job of weaving the issues of the day into her story...When her mother catches diphtheria from a sick and wounded soldier, Annie is left to manage their Virginia home and farm. Early on, the teen meets a wounded Yankee officer, Thomas Walker, and they discover that they share a love of poetry. By the end of the novel, Annie has come to a growing awareness that slavery is wrong, has spent six months in a prison in Washington, DC, for carrying messages and hiding Confederate soldiers, and has made the difficult decision to marry the Yankee she loves.

"A strong and memorable heroine, romance, [and] a rich portrayal of...everyday life"
+ read more— School Library Journal
#1 New York Times Best-Selling Young Adult E-Book!
---
IRA Teachers' Choice
A New York Public Library Book for the Teen Age
Virginia Readers' Choice, finalist 2006-2007
A Pennsylvania School Librarian Association YA "Top 40"
Junior Library Guild Y+ Selection
Where to Buy
Annie, Between The States
Purchase this book directly from the publisher by clicking below.