Laura's Blog

A Wonderful Fall
October 29, 2014
What a wonderful Fall I've had, meeting so many kind readers and talented authors at various literature festivals. Thanks to everyone who came out to say hello.
In early September I traveled to Winston-Salem for BooksMarks, a lovely gathering in that North Carolina city and a particular joy for me since my beloved alma mater, Wake Forest University, sits at the town's edge. I had the chance to work once again in its beautiful, airy library re-experiencing the joy of building my mind in that light-filled building. I was even issued a library pass I could keep! (Okay, I'm a geek.) I lunched with my favorite professor who has remained a loyal, thoughtful, and inspiring mentor; stayed with my oldest and dearest friend; caught up with another close college compatriot; spoke to a local school and reveled—as always—in that sea of earnest and excited young faces that authors are blessed to swim in when visiting a school to talk about books.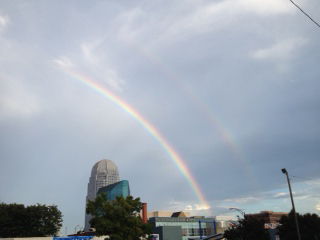 Saw a beautiful rainbow stretching across the Piedmont and THEN I got to speak to a delightful group of librarians and teachers, children and parents. What a restorative, invigorating weekend it was. This is why whenever I'm blue, I go to Carolina in my mind, as James Taylor would sing.
George Mason University's Fall for the Book festival was next, another joy. It too is home for me in many ways, as I grew up down the road, watching that school blossom from a small branch of UVA to a renowned university in its own right, featuring a wonderful MFA program for creative writing. (Yes, I'm old!) Given its proximity to D.C. and that wealth of journalists, GMU's literary festival features a plethora of nationally-important biographers and political pundits, but also includes all manner of book genres, YA and children's authors included. I spoke at Robinson Secondary School with fellow YA author, Kathy Erskine (Mockingbird, and The Badger Knight). Always fun for me to step onto a campus that was a big competitor of my own high school. I remember many a cold night in my marching band uniform on Robinson's football field!
Now everyone needs to forgive how much I am about to gush. I met Pat Conroy!!!
For as long as I can remember, I have been in awe of Pat Conroy's poetic prose, emotional honesty, and heart-stopping plots. Having grown up in the Washington suburbs, with most of my childhood friends being "military brats" as their parents did a Pentagon rotation ("flying a desk" being a major aggravation for fighter pilots), hailing from a southern family myself, and my own sweet father being a WWII pilot and long-serving Air Force reservist, I was captivated by the Great Santini, which came out when I was in high school. I have devoured most of what Mr. Conroy has written since, often re-reading and highlighting passages for their deft pace, clean-boned voice, and poignant insights. His characters always have such urgency.