Laura's Blog

Happy Birthday to Aaron Burr, Sir
February 6, 2018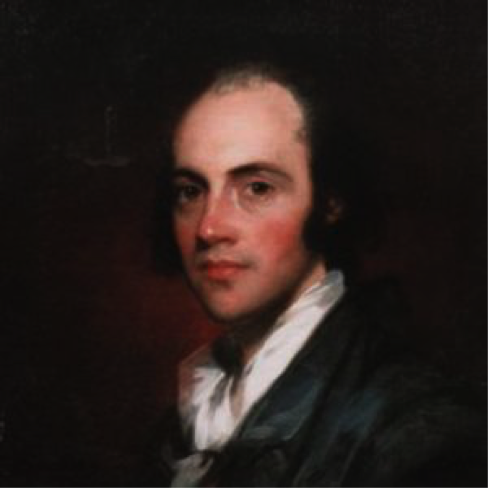 Today we honor the birthday of Aaron Burr. Yes, Aaron Burr. Breathe. Bear with me for a second.
Much as he is portrayed in the smash-hit HAMILTON, Burr was an incredibly complex figure—intelligent and charming, while simultaneously being calculating, arrogant, and unapologetic in his actions. Had his choices and temperament been different, his political legacy might have been more in keeping with his contemporaries, maybe even on par with his arch nemesis, Hamilton.
No matter what, Burr is an inextricable thread in our nation's fabric.
So let's dive in, shall we?
As you know from the musical, Burr's father and mother died young. Burr and his sister were left in the care of their aunt. Burr's father had been a Presbyterian minister and president of Princeton (then called the College of New Jersey). Enrolled at age 13, Burr graduated three years later, summa cum laude.
During the Revolution, Burr served under Benedict Arnold, Israel Putnam, and briefly worked for George Washington (while GW was in NY). He also commanded troops at the frontier outpost of Westchester, NY. After the war, Burr became an attorney. But first, he "studied the law" by reading books in Philip Schuyler's personal library. (While Hamilton fought in Yorktown, Burr was thumbing through volumes in the Schuyler Mansion in Albany.)
After proving himself in the courts of both Albany and New York City, Burr was appointed Attorney General of New York in 1789. Two years later, he ran against and defeated his library host and somewhat mentor, Philip Schuyler, for the U.S. Senate—which, of course, inflamed the animosity between Burr and Schuyler's son-in-law, Alexander Hamilton. Six years later, Schuyler reclaimed his Senate seat, defeating Burr, who blamed Hamilton for the election's outcome.
Then, in 1800—again as you'll know from the musical—Burr lost the presidency, largely due to Hamilton supporting Jefferson. Hamilton loathed Jefferson but he hated Burr even more. Burr served as Vice President, from 1801 to 1804.
After his Vice-Presidency, Burr ran for New York's governorship. Four years before, Hamilton had promoted the candidacy of his brother-in-law, Stephen Van Rensselaer, (Peggy's husband) against Burr's candidate in that election. When Burr lost his own race in 1804, which Hamilton also opposed, he had had enough. He challenged Hamilton to a duel, and famously shot him while Hamilton fired his pistol into the air.
After that, Burr's career was never quite the same. In 1807, he was even arrested and tried for treason on charges of plotting to take over Spanish-held lands in Louisiana and Mexico and to separate American territories from the United States to establish an independent republic. Burr was acquitted, but he could never shed the scandal.
His reputation now completely tarnished, Burr's political life was effectively over. He would die in poverty in 1836—on the same day, ironically, that the divorce his second wife wanted from him was finalized. Her attorney: Alexander Hamilton, Jr. Karma is a cruel mistress….
Despite all this, Burr's work still influences our modern-day world. For instance, Burr founded The Manhattan Company, which became JPMorgan Chase, one of the largest financial institutions in existence today. Additionally, Burr was one of the most prominent opponents to the Alien & Sedition Acts—anti-immigrant and political- censoring legislation with connotations and ramifications still being debated today.
Here are details about how a duel worked in the 18th century, although Lin-Manuel Miranda's "Ten Duel Commandments" https://www.youtube.com/watch?v=m7iHmuco_zo is a brilliant synopsis.
How does a duel work:
https://www.youtube.com/watch?v=7krrriXVaRk
Sources on Burr:
http://www.ushistory.org/valleyforge/served/burr.html
https://www.biography.com/people/aaron-burr-9232241
http://www.famous-trials.com/burr/156-home