Laura's Blog

Guest Blog: Theodosia Writes Me a Letter Every Day...
March 28, 2018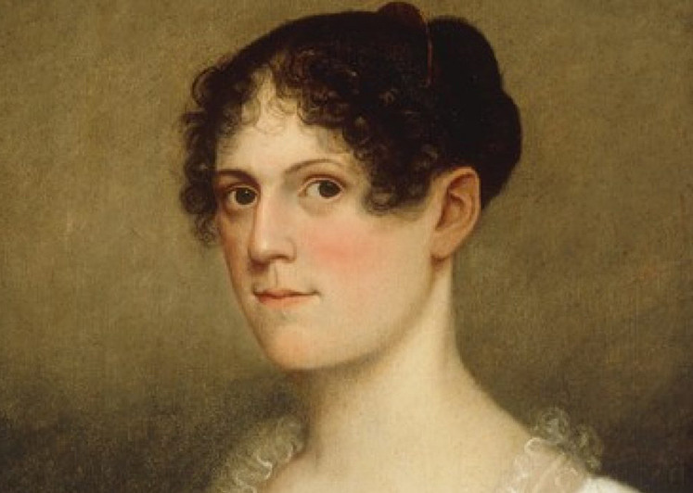 Hello again, all! It's Megan again, Laura's daughter, this time to gush about a kick-butt feminist female revolutionary who ended up not making it into Hamilton and Peggy, but who I'm sure many of you have heard of—Theodosia Burr.
On my first several listens to Hamilton, "Wait for It" was one of the songs that I immediately fell in love with. I was going through a tricky time personally, and the mantra of accepting that the only thing you can control is yourself was something I really needed to hear at the time…and the fact that it's sung by the gorgeous/talented Leslie Odom Jr. certainly helped. But this Theodosia woman who fell in love with a young Patriot while married to a British officer also immediately fascinated me.
As it turns out, Theodosia is pretty awesome, and so I'm going to take a few minutes out of your life to honor her before Women's History Month is over! So without further ado…some cool things about the beautiful and brilliant Theodosia.
She was a Total Nerd
She named her home with British-officer husband, James Prevost, "The Hermitage" after the cottage of philosopher Jean-Jacques Rousseau, which she…
Protected on Her Own!
While her husband James was called off to active duty with the Redcoats in 1776, she was left behind at The Hermitage to run a household of five children, her widowed mother, and a teenage half-sister—and to defend her home from the Colonists! Bergen County (in New Jersey), where Theodosia lived, was the site of almost constant guerilla warfare for over 4 years. Several of her neighbors were killed, wounded, or imprisoned during this time. The American government constantly tried to confiscate their home for strategic purposes, but she managed to prevent that…
By Hosting GREAT Parties!
Theodosia managed to keep her home by welcoming leading patriots into her home for her famous salons (and by writing articulate, passionate petitions to New Jersey officials). American officers were so enchanted by her brains, witty conversation, and political knowledge that they stopped trying to take her house. One of her favorite activities was…
Poetry!
Theodosia's parties were quite like the European "salon" model, in which guests gathered to discuss politics, philosophy, religion, literature, and many other topics. Theodosia was particularly skilled in "crambo"—an impromptu poetry-writing parlor game contest. The Hermitage was so popular, that it was the site for…
A Four-Day Party with General George Washington!
YES, this really happened. After the battle of Monmouth ("a thousand soldiers die in a hundred degree heat"), Theodosia learned that George Washington and his troops would be passing by on their way to New York. She sent an invitation to the General, basically implying that her house was much nicer than anything else in the area, and it worked! Washington and his men descended on the Hermitage, where they talked and danced and "gallanted away" for four days and four nights! (You can learn more about what a great dancer Washington was elsewhere on the blog!) This sort of party might seem odd, but…
Theodosia's Loyalties were Constantly Torn During the War
Theodosia is remarkable example of just how complicated loyalties between family and friends could be. The Revolutionary War was as much a civil war as anything else—with a third of the colonists fighting for independence, a third wanting to remain part of the British crown, and a third desperately trying to survive by remaining neutral. Her husband was a Loyalist officer, but she had many friends and relatives who actively fought for the Colonies, including a cousin, who introduced her to a fellow officer in his regiment…
Aaron Burr
Burr first met Theodosia in 1777 when he was 21 and she was 31. Technically, she was "an enemy"—but none of the American officers in the area thought of her that way. They got to know each other much better in the period following the battle of Monmouth. In the fall of 1778, Burr was suffering from health issues related to exhaustion and exposure, and spent some time recuperating at the Hermitage. After a year of struggling with health issues while still fighting in skirmishes and minor battles, Burr retired from the army and began to study law. Throughout 1781, he was deeply involved in his studies, and seemed to have had a relationship with Theodosia almost entirely through letter writing. Relatively few of these letters exist, but it is clear that Theodosia and Burr were drawn to each other's intellect and brains—a true match between equals. Naturally, it seems there was quite a bit of gossip about their relationship, but both of them seemed to approach the gossip with a very matter-of-fact, down-to-earth sense of reality. Theodosia's husband James died in 1781 while serving in the British Army in Jamaica, and after some time…
Burr and Theodosia get married!
On July 2nd, 1782, Theodosia and Burr married in a double wedding with Theodosia's half-sister. Theodosia was ten years older than Burr and already had five children. They moved to New York City after the British surrender, and…
Lived a Fabulous Life in the Big City!
Burr was an excellent lawyer with few equals in the young, scrappy America. He therefore charged quite a lot of money, which he and Theodosia used to furnish beautiful homes, have even more extravagant parties with impressive VIP lists, and remain at the top of NYC's best-dressed list. Not only that, Theodosia put that brilliant mind of hers to overseeing Aaron's law office when he was away on frequent business trips! Theodosia gave birth to four children…
But Only One Survived
Theodosia, named after her mother at Burr's insistence (and the namesake of one of the songs in Hamilton that ALWAYS makes me want to cry), was born in 1783. Theodosia and Burr adored their daughter, and both took great pains to educate her as an equal to any man, in the spirit of their…
Early Feminism
Aaron and Burr were—and are—considered among America's first feminists, and were ardent followers of Mary Wollstonecraft, the author of A Vindication of the Rights of Women. Dolly Madison was so impressed with the education young Theodosia received that she appointed Burr the guardian of her son if she should die!
Sadly, Theodosia Died Young.
Theodosia Prevost Burr died of stomach cancer on May 18, 1794 at the age of 48. Burr was completely devastated, and basically diverted all his love for his wife Theodosia to becoming to a devoted father to young Theodosia. And, unfortunately, becoming a kind of crazy a**hole in his remaining years. But I digress. I love their marriage and partnership—a before-their-time match of equals. Even when Burr finally married again after almost 40 years of being a widower, he said, "The mother of my Theo was the best woman and finest lady I have ever known." I certainly believe he was his best self when with her. I wish I could meet her.
And one more Fun Bonus Fact: Theodosia's Mom was Equally Cool!
Theodosia's Father, Theodosious (I know…original) died before Theodosia was even born. 34-year-old Ann, Theodosia's mother, raised Theodosia as a single mom in New York for 5 years (that's hard enough now, I can't imagine doing it in the 18th century!) There are no official records of Theodosia's education, but she was well versed in Latin and French was extraordinarily well read—far more extensively than privileged women of the time—which indicates that Ann probably taught her daughter herself, and taught her well.