Laura's Blog

GUEST BLOG from Berlin Army "Brat" Jim Branson
November 3, 2021
Note from Laura: One of the great joys of writing WALLS, my new novel about Berlin 1960-61—the volatile year leading to the shocking overnight raising of the infamous wall—was talking with former military kids who had been teens in that American "outpost of freedom" during the height of Cold War tensions. Now in their 70s, these "Berlin Brats," as they call themselves, shared vivid memories of their experiences as high schoolers in the divided city behind the Iron Curtain, where their fathers could be called to action at any moment against Russian troops and their communist East German minions that vastly outnumbered them, posted just a few miles away. If you find authenticity, poignancy, and rueful laughter in the novel, it has everything to do with how generous those Berlin alumni were in sharing their memories and knowledge, graciously (and patiently) answering my incessant questions.
Jim Branson (class of '64) really helped me understand the vital importance of music in building community and a sense of collective identity among American teens posted so far away from the United States. And what a lifeline of creative thought American music was, floating free in the air along radio waves, to teens trapped in communist East Berlin and its repressive dogma.
Jim hosted a radio hour on AFN for two summers and graciously agreed to write a guest blog about that experience and the music of that time.
JIM'S STORY:
My dream of becoming a radio deejay started when I was about 12-years-old.
My older sister had graduated from high school in Japan and taken a job with an insurance company when we came back to the States in 1955. As a teenager, my sister collected 45 rpm records and had two boxes of 75 records each. I had always been impressed by the music emanating from her room in the evenings when she got off work: the Four Aces, Pat Boone, Perry Como, Harry Belafonte, the Platters, the Crew Cuts, the Diamonds, Jo Stafford and all of the teen idols that teenagers listened to in 1953, 1954 and 1955, before the advent of Rock'n'Roll.

One day while she was at work, me and a buddy were trying to decide what to do with our day when we walked by her room and saw the boxes of records sitting there. The temptation was just too much. We commenced to pulling out and previewing each one on her 45 rpm record player, finding gems that I had never heard before: Chuck Berry, Gene Vincent, the Everly Brothers, Fats Domino, Amos Milburn, Joe Turner and several early Elvis Presley recordings from the beginning of his career were mixed among the others.
Both my friend and I were hooked. We started listening to the best deejays on our local radio stations and other radio stations that we could pick up at night from Memphis, Chicago and Nashville. The disc jockeys on those stations were incredible personalities, to say nothing of the R&B music they played. They each had their own schtick and my friend and I would spend hours in his basement trying to imitate them. He had a very cool setup of two record players, and his Dad's reel-to-reel tape recorder. We would make recordings and listen to them to decide who did the best. He was very good with electronics and would hook up microphones, and all kinds of little gadgets that made us sound better. We also got very good at calling radio stations when they were running contests and we'd win more records. Also, my older brother had been babysitting for a family who were close friends with an Army Sergeant that was the weekend jock on one of our favorite local stations. He gave duplicate 45s to the family and they in turn passed them along to my brother, who would give them to me. My collection was growing.
Fast forward a couple of years and it's early 1961. I was 15-years-old.
I was sitting in the American teen club in Berlin, Germany talking to a classmate and mentioned my time playing around as a deejay. She told me that her Dad, a Captain, was the station manager at Berlin's American Forces Network radio station, AFN. She asked if I would like to meet her Dad and tour the station. I couldn't believe my luck. This had been all I wanted to do for a few years—touring a radio station was my dream.
Her father invited me to bring along a couple of friends who might be interested in seeing the station. We all headed to the station on a Wednesday afternoon in late April of 1961.
The station tour was very impressive. Located near the Army compound and housed in a beautiful older home that had belonged to one of Hitler's bankers, the station had two studios with adjacent control rooms where they recorded future programs and a master control room for one studio where they did live programs that were broadcast around the entire AFN Europe network. I'd never seen anything like their record library—a huge collection of recorded music on 12 inch transcription discs recorded by the Armed Forces Radio & Television Service in Los Angeles. The L.A. headquarters would preview all the newly released 45s and transcribe them to the discs—this was the way the military could control the music AFN stations played. If something was seen as objectionable to the military censors, it didn't get transcribed to these discs.

At this time, Staff Sergeant George Hudak—who had become very popular with the American GIs, and also both East and West Berliners, hosted a daily program of music called "Frolic at Five." He took requests and had plenty of postcards to attest to his popularity. Occasionally he would do a live remote broadcast from somewhere in the American sector and there would be crowds in the hundreds that came out to see him broadcast in person.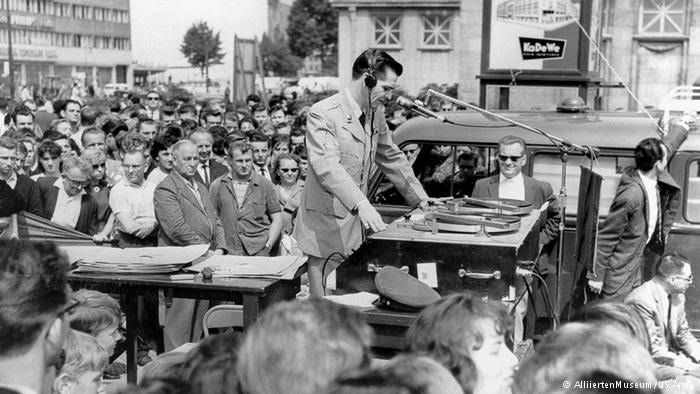 Hudak at Live Remote
At the end of our station tour, Program Director Mark White asked if we would like to do a live program once a week after school. The Army was trying to replicate American life for us dependents as best they could in a place where, for instance, there was only German TV. All of us were astounded. Me especially. Here was my breakthrough into the world of radio.
They paged George Hudak and he came up to the office. When they made the suggestion to him about our doing a 5:00 to 6:00 show, He didn't seem extremely enthused, but he relented and agreed to giving us the "Frolic at Five" spot on Wednesdays. George would be our mentor and producer of the program, which meant he'd be in the main studio playing the music, while we sat in another studio announcing the records and using some of George's fan mail to do requests and dedications. We would also throw in some names of our high school friends, couples who were going together.
On May 17th, 1961, we did our first broadcast of the "Teen Beat." That first show had to have been a complete disaster. We had called a military taxi to pick us up at the teen club and take us to the station right after school. Early enough that we would have time to pick our music from the library. But I also had to type up a cue sheet, so that George would know what and when to play after we announced the song and did the dedication. This was with no typing experience in school yet.

We tried to stay away from the music that George usually played on "Frolic at Five." We had gotten tired of hearing the same top 40 hits over and over. The program director was also more into big band and jazz. So we tried to play more current music that they didn't. The only place we high school kids had been able to hear current British music, for instance, was Radio Luxemburg, but it was an AM station so it would fade in and out. I started going into the library on weekends to look for singles that weren't well known yet, even back in the States—like Dick Dale, from Southern California, a guitar surf god, who was just starting to get popular. We mixed in these new songs with records that had been popular two or three years earlier. A pretty eclectic mix, compared to George's straight Pop 40 music from Billboard magazine.
After about three or four weeks we started getting our own fan mail, mostly from Berliners who wanted to hear more of the kinds of things we were playing. Eddie Cochran, Gene Vincent, Ritchie Valens, and lots of Buddy Holly. Since the music was sent to AFN Berlin from California, we tended to get a lot of West Coast artists on the transcriptions and it was usually new artists that hadn't been heard of yet. We were way ahead of the curve on playing new music along with those great oldies that hadn't been played for a couple of years. I was creating a format that didn't exist anywhere on the radio at that time.
We didn't find out until later about how many East Germans were listening. That wasn't something we thought about, honestly, the shadow audience of people trapped in the Soviet sector of East Berlin. But they were there. The next summer, August 1962, after the Wall went up, we even got a request wrapped around a rock, thrown over the wall, and addressed to AFN Berlin.
During the summer of 1961, AFN Berlin was our second home. To this day it seems unreal to me that they would allow three 15 to 16-year-olds to have the run of the place. We finished up our first season of the "Teen Beat" in August of 1961, just around the same time as the Wall was being built to divide the city in half.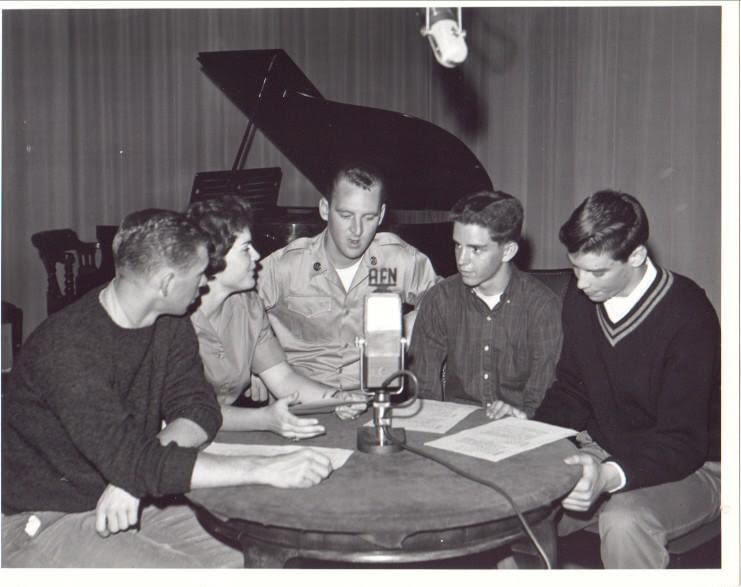 The broadcast team for "Accent on Youth." Jim is second from the right.
I continued to frequent the station to peruse the record library occasionally during the winter of '61 - '62. The next summer, we did a show called "Accent on Youth," announcing events happening in the school and the AYA teen club and played a lot of records. Our new producer was a young PFC who later went to work for Dick Clark.
With the Wall going up, a lot of celebrities wanted to see it, and stopped in at the station to do promos for their new record or movie or just to talk to the deejays. Ed Sullivan brought his whole company to Berlin in October of '61 to tape two shows that would be shown in the U.S.. Louis Armstrong was the headliner on one of those shows, and Shari Lewis and Connie Francis were part of the other. Connie made an appearance at our teen club and a German teen idol named Peter Krause made an appearance on the Sullivan show that was recorded at our teen club.
The experience that I had doing "Teen Beat" and "Accent on Youth" was probably the most memorable one of my life. Many friendships were cemented, and I still listen to several tapes of both shows. I became a disc jockey for real during the '80s and '90s after chasing the dream most of my life.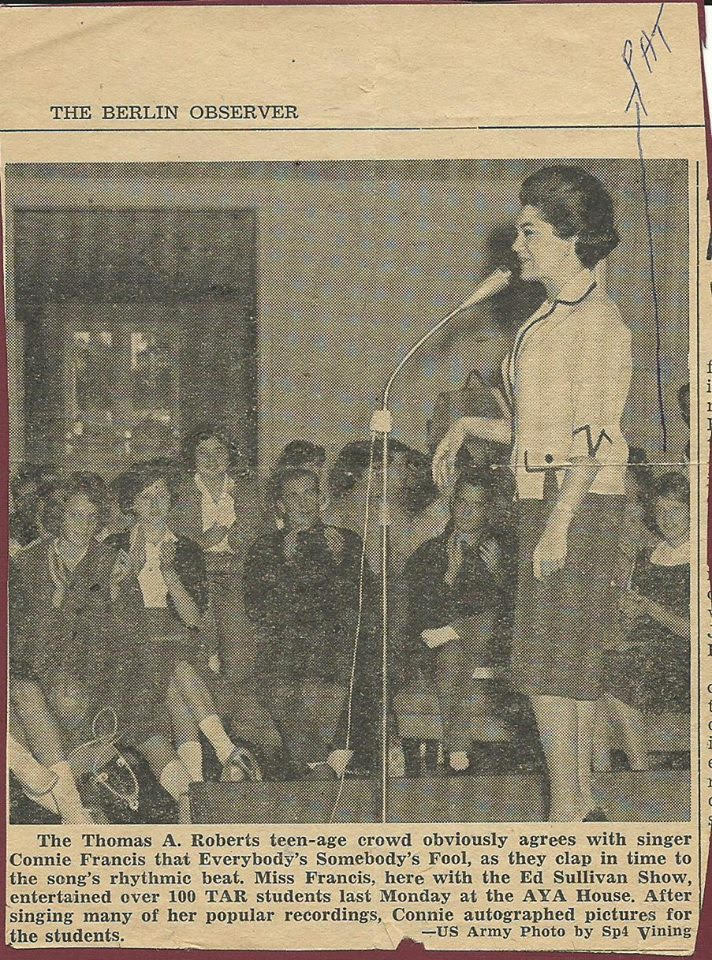 Connie Francis in Berlin to tape the Ed Sullivan show comes to our teen club
These were the Billboard Top 10 for the week of August 14, 1961 when the Wall went up:
#1
Tossin' And Turnin'
#2
I Like It Like That, Part 1
Chris Kenner
#3
Last Night
Mar-Keys
#4
Dum Dum
#5
Wooden Heart
Joe Dowell
#6
Michael (Row The Boat Ashore)
The Highwaymen
#7
Pretty Little Angel Eyes
Curtis Lee
#8
Let's Twist Again
#9
Together
#10
School Is Out
Gary U.S. Bonds