Laura's Blog

Angelica's Elopement
June 27, 2018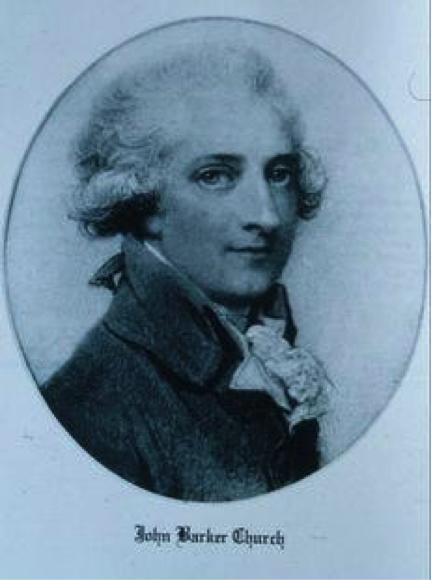 I managed to miss last week's anniversary of Angelica's elopement with John Barker Church, (alias John Carter), June 21, 1777. So today, in honor of "Women crush Wednesday" I want to make up for that!
One of the many wonderfully feminist things Lin-Manuel Miranda does in Hamilton is his portrayal of the oldest Schuyler sister, the vivacious Angelica, whom he so dignifies and other less empathetic writers might have denigrated. He doesn't shy away from the intellectual love affair between Eliza's older sister and her husband. In the musical, both Eliza and Angelica are single when they meet Alexander. In an act of sisterly devotion, Angelica essentially gifts the swoon-worthy Hamilton to Eliza, who is "helpless" in love at first sight of Hamilton's intelligent, violet-blue eyes. Angelica knows that stepping aside dooms her to "never be satisfied."
But in real life, Angelica, "the thief of hearts," as her real-life peers called her, was already married (for three years!) when Alexander Hamilton entered the sisters' tight-knit circle. And coming from one of the most affluent families in NY, she certainly didn't need to marry rich or to social climb as she sings in the musical. And she did in fact have several brothers.
These facts seem to really upset diehard Angelica-fans when I share them! But it shouldn't. Lin so captures the essence of Angelica. And to be fair, only so many characters and subplots can be crammed into two-and-a-half hours!
Angelica's choice in husband is also messy and perplexing. He'd recently fled England, either to escape gambling debts or retribution for a duel, and adopted an alias, John Carter. Eventually he becomes the commissary for the French Army, amassing a fortune. But as such Carter would be a controversial patriot at best. George Washington, for one, grimly joked that all profiteers should be hanged.
Angelica had spent most of her teenage years in New York City's sophisticated world of theatre, music, social events, and political debate. But with the British occupation of it in 1776 and with that arrival of 32,000 troops in the harbor, Angelica was relegated to her hometown of Albany, a frontier town and comparative backwaters. The European worldly and decidedly handsome Carter must have quenched her thirst for her old urbane life. But their whirlwind romance was incredibly defiant since Carter came to Albany on Congress' orders to audit General Schuyler's record books, accusing him of mishandling his command of the Northern Army. Angelica's Papa definitely didn't like the guy. Schuyler also was dealing with the start of the British invasion from Canada and Fort Ticonderoga falling without a fight (during which 3,000 Continental soldiers vaporized, potentially having been captured by the British or having fled.)
In the middle of all that mayhem, Angelica runs off with Carter!
To me, Angelica's impetuous marriage makes her later intellectual love affair with her brother-in-law even more poignant and heart-breaking. She does become Hamilton's political muse, writing him letters that went toe-to-toe with his not only in philosophy but in flirty cleverness. They did play around with comma innuendos, such as: My dearest, Angelica, which Lin includes in his song "Take a Break." He's jokingly called it "comma sexting." And my research also suggested that Angelica's marriage was not a particularly happy one once the initial passion wore off--that she seemed to seek solace in her children and her siblings.
Despite the penpal intimacy between Angelica and Hamilton, there remained a fierce loyalty among the Schuyler sisters, a Jane-Austin-style us-against-the-rogues-of –the-world bond, no matter what wedge a man might drive between them.
Lin beautifully captured that as well, even more pointedly perhaps in a song he eventually had to cut and meld into "The Reynolds Pamphlet," titled sarcastically "Congratulations." Broadway's original Angelica, Renee Elise Goldsberry, performed this cut song in in the last Ham4Ham performance:
http://www.playbill.com/article/watch-renee-elise-goldsberry-sing-deleted-hamilton-song-at-final-ham4ham-concert
How did this affect my girl, Peggy, "the wicked wit," as her friends called her?
In February 1780, within days of meeting Eliza, Hamilton writes Peggy. Saying he has already formed "a more than common partiality" for her "person and mind" because of a miniature portrait Eliza painted and carries with her, Hamilton playfully begs Peggy, as a "nymph of equal sway," to come to the Army's winter encampment to distract the other aides-de-camp… so he can monopolize Eliza!
It is a long and wonderful letter that reveals so much of Hamilton's swagger AND his vulnerability. (You can read it yourself at: https://founders.archives.gov/documents/Hamilton/01-02-02-0613 )
But here's a soundbite: …. I have some things of a very serious and heinous nature to lay to (Eliza's) charge…. She has overset all the wise resolutions I had been framing, and from a rational sort of being and a professed contemner of Cupid has in a trice metamorphosed me into the veriest inamorato you perhaps ever saw…
…. By dividing her empire it will be weakened and she will be much less dangerous when she has a rival equal in charms to dispute the prize with her. I solicit your aid.
Upon receiving that letter, Peggy seems to have ridden 150 miles to Morristown, NJ, through territory patrolled by Loyalist scouting parties who would have reveled in capturing one of General Schuyler's daughters. She braves the worst winter ever recorded in American history, with snowdrifts 4 to 6 feet high and temperatures so low the New York harbor froze solid 18-feet deep, so that cannon could be pulled across it.
Peggy was daring and independent, but I think she also went to check out this flirtatious aide-de-camp to insure he wasn't just dallying with her sweet-natured middle sister, largely because of having witnessed Angelica's seduction by the rogue Carter.
She seems to arrive just in time for the Winters' Ball immortalized by Lin in Hamilton. (for more on the ball see http://www.lmelliott.com/lauras-blog/morristown-ball-dancing-gw-hamilton-and-schuyler-sisters/ )
During a later ball, one of Angelica's garters slipped off her leg while dancing. Hamilton scooped it up, presenting it to her on bended knee. Angelica teased him that he wanted to be a "Knight of the Garter." Then Peggy, perhaps in warning, was heard to quip: "more like a knight of the bedchamber…."
Those Schuylers sisters. Got your back, girl!